7 Reasons Why Edison, New Jersey for Data Center Colocation
The list of clients at IO New Jersey includes, as Datacenter Dynamics put it, "some of the most recognized brands operating in the New York metropolitan area." Here, seven reasons why enterprises and government organizations find Edison, New Jersey ideal for data center colocation services.
IO's East Coast data center is located in Edison, New Jersey. With 718,000 square feet of floor capacity, it is the largest commercially available data center that offers modular data center capacity. In a feature article in the March 2015 issue of Datacenter Dynamics, Drew Amorosi took readers on a "tour" of the facility, which Amorosi calls a "symbol of the region's industrial transformation." (Before we retrofitted it to meet the needs of a next-generation data center, the building was a New York Times printing plant.)
The list of clients at IO New Jersey includes, as Datacenter Dynamics put it, "some of the most recognized brands operating in the New York metropolitan area" (read the article to find out who). Why have those enterprises and government organizations chosen IO New Jersey over a data center in New York City, or in Secaucus (another popular New Jersey site for data centers)? Here are seven reasons.
7 reasons why enterprises and government organizations find Edison, New Jersey ideal for data center colocation
1. Ultra-low latency to New York City
In industries ranging from financial services to agriculture, business gets done in New York City – and London, and Singapore. Latency – how long it takes data to travel from where you're at to those major markets – matters. That is nowhere clearer than in financial services, where exploiting latency advantages has been estimated to account for $21 billion in profit per year. But even companies that aren't in the business of high frequency trading can be negatively impacted by millisecond delays in communication.
Latency is affected by a number of factors, including geographic proximity. That's why having a data center presence near New York City is important to so many enterprises and government organizations. There is data center space in New York City itself, of course, but New Jersey is a viable alternative for reasons 2-7 and because it is still within low-latency range (less than 15 milliseconds) of New York.
As Ryan King, IO sales director, explained to Datacenter Dynamics, "One reason for locating in New Jersey is because it's not New York, yet it's close enough to the exchanges [to deliver low latency]." 
2. Central location with easy access
While physical location isn't the most important attribute for a data center, it does matter. Especially when it comes to getting personnel on site. IO colocation customers do get anytime, anywhere visibility and control via DCIM software and remote hands support, but boots on the ground are sometimes necessary. For IT personnel who live on the New Jersey side of the bridge, Edison is far easier to access than a Manhattan data center; there's even ample parking (no one wants to lug IT gear on the subway). Furthermore, IO leases office space to its customer for on-site operations.
3. Robust – and scalable – power infrastructure
The IO New Jersey data center is powered by an on-site 100 MW capable substation with dedicated feeds. Plus, it's one of the utility's priority substations. The data center is also connected by redundant loops from a nearby switching station. Furthermore, the location is already pre-approved for a second power substation, six chiller plants, and 64 generators.
4. Robust communications infrastructure (among the fastest in the U.S.)
The East Coast, including New Jersey, hosts among the fastest Internet connections in the country.[1] Edison has a robust fiber optic infrastructure, and a network of Tier 1 communications providers, including Verizon, CenturyLink, Zayo, and Level3.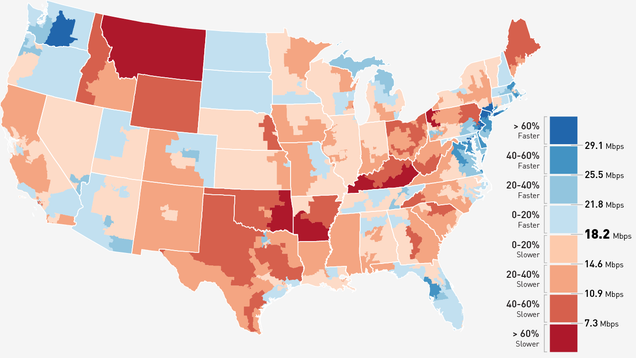 Image source: Gizmodo
5. Lower energy prices
Statewide, New Jersey has a reputation for relatively high energy prices. However, compared to New York City, the cost of electricity is substantially lower in Edison. Datacenter Dynamics: "Another reason [to colocate in New Jersey] is the cost of power, which is much more expensive in Manhattan and the surrounding boroughs." Estimates typically put the cost of electricity in Edison 30-50 percent lower than in New York City.
6. Lower cost of doing business
Compared to New York City, Northern New Jersey is a much less expensive place to do business. Compared to the national average cost of doing business, New York City is 50.7 percent more expensive. (Northern New Jersey is not cheap; it's 20.8 percent more expensive than the national average, but that's still 30 percentage points less costly than New York City.)[2]
7. Relatively low risk of natural disasters
The East Coast is more prone to natural disasters than, say, Phoenix, but it is not the highest risk part of the country by far.[3] Furthermore, among East Coast locations, Edison is quite well positioned as a relatively low-risk location (for one, it's not in a flood zone).
Image source: New York Times
There is no one right answer to the question "Where should I locate my data center?" For the reasons that I wrote about earlier this year, most companies adopt a regional colocation strategy, colocating in data centers within reasonable geographic proximity to where they do business. So for a small business on the West Coast, with only local or regional operations, a data center in Phoenix may make the most sense. But for companies with operations on the East Coast, Edison, New Jersey is a compelling place for data center colocation.
IO serves companies around the world, with colocation data centers in the U.S. (Arizona, Ohio, and New Jersey), plus a Singapore data center in Asia, and a London data center in Europe coming online this spring. Tying it all together is DCIM software that enables clients to monitor and manage their data center environments from any device, anywhere in the world. Learn more about New Jersey colocation.Download the New Jersey data center spec sheet (pdf).
[1] Source: Gizmodo[2] Source: PwC[3] Source: New York Times
DISCLAIMER: This document is for reference purposes only. The information contained herein should not be relied on and neither IO Data Centers, LLC nor any of its affiliates makes any warranties or representations as to its accuracy.